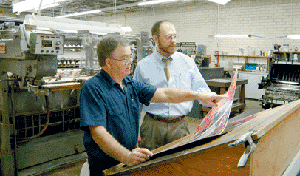 Westmoreland Printers is a modern full service print shop, offering digital output including large format; full color, full size offset printing with direct to plate output; finishing including die cutting, foil stamping, embossing, and a complete bindery.
The Westmoreland Printers team harnesses nearly 200 years of industry experience. This team of craftsman have been recognized by regional and international trade organizations for high quality standards more times than any in our area. They ensure your work meets their personal standards in every step of the process.
Westmoreland Printers, Inc. is uniquely positioned to meet your printing needs, from full color printing to the most simple copy job. With the background of traditional printing, and the knowledge and understanding of digital output and modern printing techniques you can be assured of a professional work, produced in a timely manner, that reflects a heritage of craftsmanship, service and value.
Westmoreland Printers, Inc. is affiliated with numerous professional and business organizations including the National Association of Print Leaders, the Printing Industries of the Carolinas, the International Association of Printing House Craftsmen, the Graphic Arts Technical Foundation, The Printing Industries of America, and local Chambers of Commerce. These associations assure adherence to standard, published trade customs and practices, and a unique level of software knowledge and support.